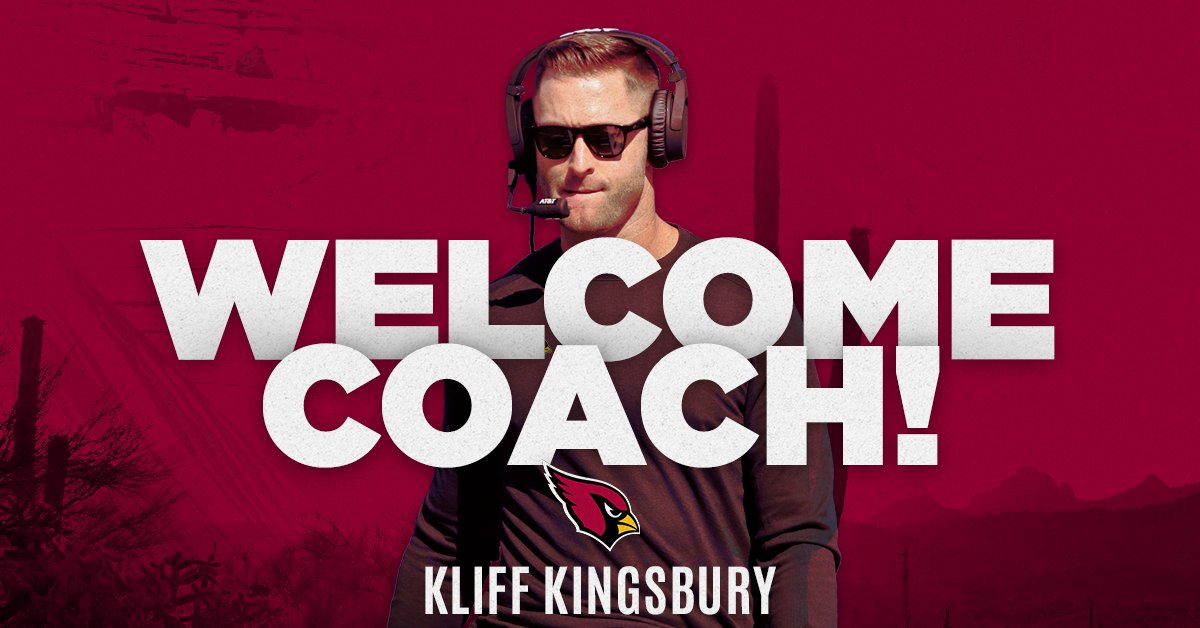 The Arizona Cardinals have introduced former Texas Tech head coach and USC offensive coordinator Kliff Kingsbury as their next head coach.
Kingsbury replaces Steve Wilks, who was let go after one season as the Cardinals head coach. He finished his lone season with the team with a 3-13 record, which is the worst in the league.
Firing Steve Wilks after 1 year w/a rookie QB & replacing him w/a guy who has never coached in the NFL & had a losing record in his only college HC job is…something.

— Luke Easterling (@LukeEasterling) January 8, 2019
This hire could be a high risk or high reward for big red. After the season the Cardinals just had this splash of a hire could quite possibly rejuvenate a fan base that has been less than pleased.
What are the Cardinals Getting?
During his six seasons at Texas Tech, his alma matter Kingsbury went 35-40 and was fired at the end of the 2018 following a 5-7 season. In December, Kingsbury accepted the offensive coordinator role at USC in December prior to being named Arizona Cardinals head coach on January 8.
Kingsbury is known as an offensive wizard who recruited Baker Mayfield to come to Texas Tech (before Mayfield transferred to Oklahoma) and coached the possible NFL Most Valuable Player, Patrick Mahomes. Perhaps another college quarterback on the Cardinals roster is be able to benefit.
What Kliff Kingsbury has set up for him in Arizona:

– #1 pick
– Young QB: Josh Rosen
– David Johnson, who was arguably the best RB a couple years ago.
– Two studs on D: Pat Peterson, Chandler Jones
– No. 1 in waiver wire order
– Projected $70M cap space.
– One more year of Fitz?

— NFL Update (@MySportsUpdate) January 8, 2019
Getting Defensive
The first key move during the Kingsbury era in Arizona is the hiring of a new defensive coordinator. Possible names to keep an eye on include former Cleveland Browns defensive coordinator and interim head coach Gregg Williams. Former Indianapolis Colts head coach Chuck Pagano, Greg Schiano who is the former Tampa Bay Buccaneers head, coach seem as likely fits. Another name to throw in the hat would be Dom Capers, the former Carolina Panthers and Houston Texans head coach served as the Green Bay Packers defensive coordinator from 2009-2018. A wild card pick for the defensive coordinator role is former Cincinnati Bengals head coach Marvin Lewis.
The Cardinals notably hold the number one overall pick in the 2019 draft. Draft picks alongside close to $60 million in cap space to rebuild the roster puts this team in prime position moving forward.
In October 2018, Kliff Kingsbury said he would take Kyler Murray as the first pick of the NFL draft if he could.

There's a San Francisco Chronicle report that he's expected to declare and Kingsbury's @AZCardinals are first on the clock 👀 pic.twitter.com/ERF1lFz5qg

— ESPN (@espn) January 10, 2019
Developing Rosen
Josh Rosen might just be the most beneficial from the hiring of the new head coach. Rosen finished the 2018 season passing for the 2,278 yards with 11 touchdowns and 14 interceptions. Kingsbury will bring his air raid offense to the valley of the sun in 2019. This could possibly be the type of offense that shows the true potential of Rosen, who the Cardinals traded up to get in the 2018 draft out of UCLA.
Will Larry Fitzgerald come back in 2019? Will Christian Kirk return from injury and be dominate as he was prior to his injury? Who will coach the defense? Will Patrick Peterson remain with the Cardinals? Many questions remain to be answered during the off-season.
This is a very out of the box move by the Arizona Cardinals. After a 3-13 season that saw a team look like they quit on the coach at times, this move to hire Kingsbury could be the spark needed to help the Cardinals move in a winning direction.